How Does Self-Publishing Work?
Self-publishing is the publishing of a book by its author. It is a beautiful concept with great opportunities for anyone looking to enter the world of book publishing.
Modern technology is the main factor that has helped make this possible. Before now, the only way to publish a book was to go to an agent. Your agent will introduce you to a traditional publishing house. That model is no longer essential to getting a book published.
While some people still prefer the traditional publishing option, we are glad it is not the only option.
What Do You Need to Self-Publish?

You will need a comfortable space in your home. A comfortable chair and table. Access to a computer, a notebook and pens. Very basic, you may say! Yes, you already have the things you require to start. So, let us move to the 'technical' part of the journey.

What Does it Take to Self-Publish A Book?
You do not need an agent. You are the coordinator for everything about your book, and it is not difficult. Be willing to learn as you go. Here are the five steps to self-publishing:
Research and Write

. Decide on a topic. Find out if people are interested. Check whatever you picked to find out what people want to know about that area. Have the main heading and frequently asked questions become your chapters and subtitles. So, you answer each question in each chapter. Schedule time and start writing. Be consistent, going steady until you finish writing. Go over what you have written several times and do the first editing. Move to stage 2.

Hire an editor

 to look over your shoulders to ensure everything is okay. If you do not have the skills, you will need to hire someone to put your manuscript in the correct format. This formatting phase means you have decided on the next stage below.

Choose your platform. Yes, there are platforms for uploading, publishing and selling your book. Amazon is the number one platform, but there are others like Ingramspark or Smashwords you should explore to see if they fit your needs. These other two platforms would help you put your book on the database of thousands of other online outlets. Worth having a look at which works best for you.

Publish and Promote. After you have followed the requirements from the platforms you choose, it will be time to hit the publish button. Hurray! You are now self-published. Is that all? No, someone needs to shout your book on the rooftop. People need to know. So, you must plan marketing into your schedule. 

As part of your marketing, you should have a community of willing followers. Start showing up where you will find your readers. Most readers are on social media. So, learn to use social media for your book marketing. My favourites are Facebook, Instagram and Tiktok. Find yours based on where your target readers hang out more.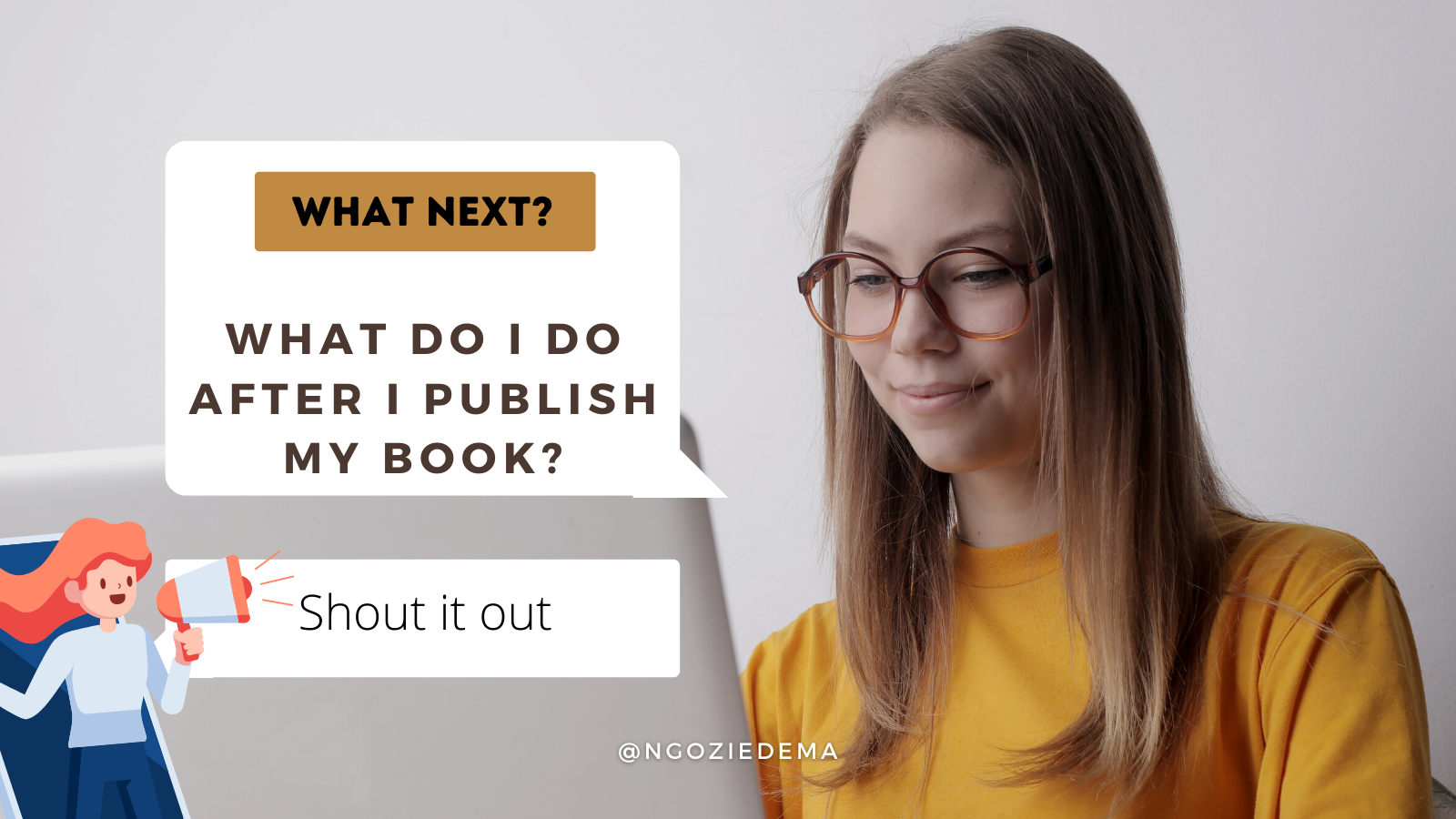 The above five steps are what you expect to do. What do you do next? Decide what you want to write. If you follow me on Instagram, last year, I introduced a fictional character, Anna. Anna loves baking, crotcheting, and growing tomatoes. She also owns a business.
Anna wants to write a book. Which one of these should she do? Sign up for my 1:1, and let me show you a simple strategy you can use for yours. Start by booking a risk-free assessment. I can't wait to see what you choose.
You will find the best stuff on the blog! Check out the following:
Like this post? Share it!
---
Fresh-squeezed how-to tips on book writing and busy mom life delivered to your inbox weekly.
My mama taught me never to brag. But permit me just this once to brag. Our emails kind of rock. This is where all the magic happens. Sign up for regular pep talks, inspiration, and all kinds of substance-packed goodness. Let's connect before you say goodbye.