Mama's Daycare
I have been writing and chronocling important things about my life for years. Writing and publishing a book was not a reason for doing so, but it is a way of distracting me from little woriies that come every now and again due to the challenges of life. Mama's daycare is the answer to a question my yougest asked me just before she started school. What would you be doing mum?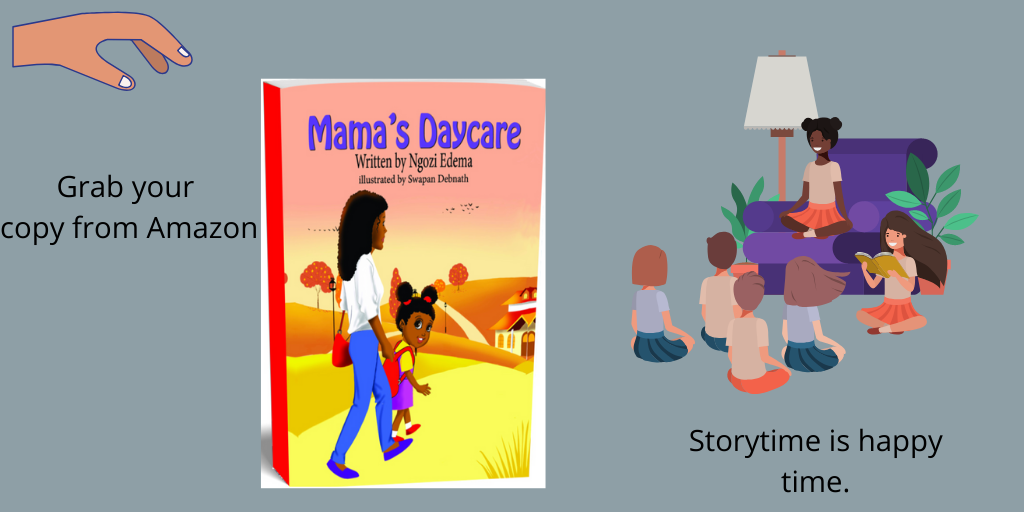 My motivation came from that question, but I wanted to write it from the perspective of a five-year-old, but something that mums like me could relate. So, it would be a delightful read for a parent and child.
Mama's Daycare
The book is about the main character Nene, who is starting kindergarten soon and was worried about her poor mum, who would be left alone while she(Nene) is at school.
You would love the intriguing mind of this five-year-old as she figures out some fun things for her mama!
The book was first published on April 1st and is available in two formats on Amazon. Amazon Kindle edition and paper format. You can purchase either or both by clicking here.

This 24 page beautifully illustrated book, is suitable for ages 5-8. Go to Amazon and check out the lovely reviews so far and make sure to add yours as soon as you are done reading it with your little one!
Hope you enjoy reading this with your litte one. We love to hear what they think of it.
Tag me on instagram with your comments or questions. Or fill in the box below.
Have A Picture Or Story On Mama's Daycare?
Did you enjoy Mama's Daycare Podcast and would either share a picture or story? Share it below!

I will love to see your pictures and story and will be posted on this site.
And to be on the loop on storytelling and other activities here, please subscribe to the newsletter below:

You will find the best stuff on the blog! Check out the following:
Like this post? Share it!
---
Fresh-squeezed how-to tips on book writing and busy mom life delivered to your inbox weekly.
My mama taught me never to brag. But permit me just this once to brag. Our emails kind of rock. This is where all the magic happens. Sign up for regular pep talks, inspiration, and all kinds of substance-packed goodness. Let's connect before you say goodbye.