Bringing Africa Home
Bringing Africa Home is a cookbook of 52 easy recipes meant to be tried one a week if you are new to African food. Most of the recipes use common everyday ingredients you might already have in your pantry!
Why I Wrote Bringing Africa Home?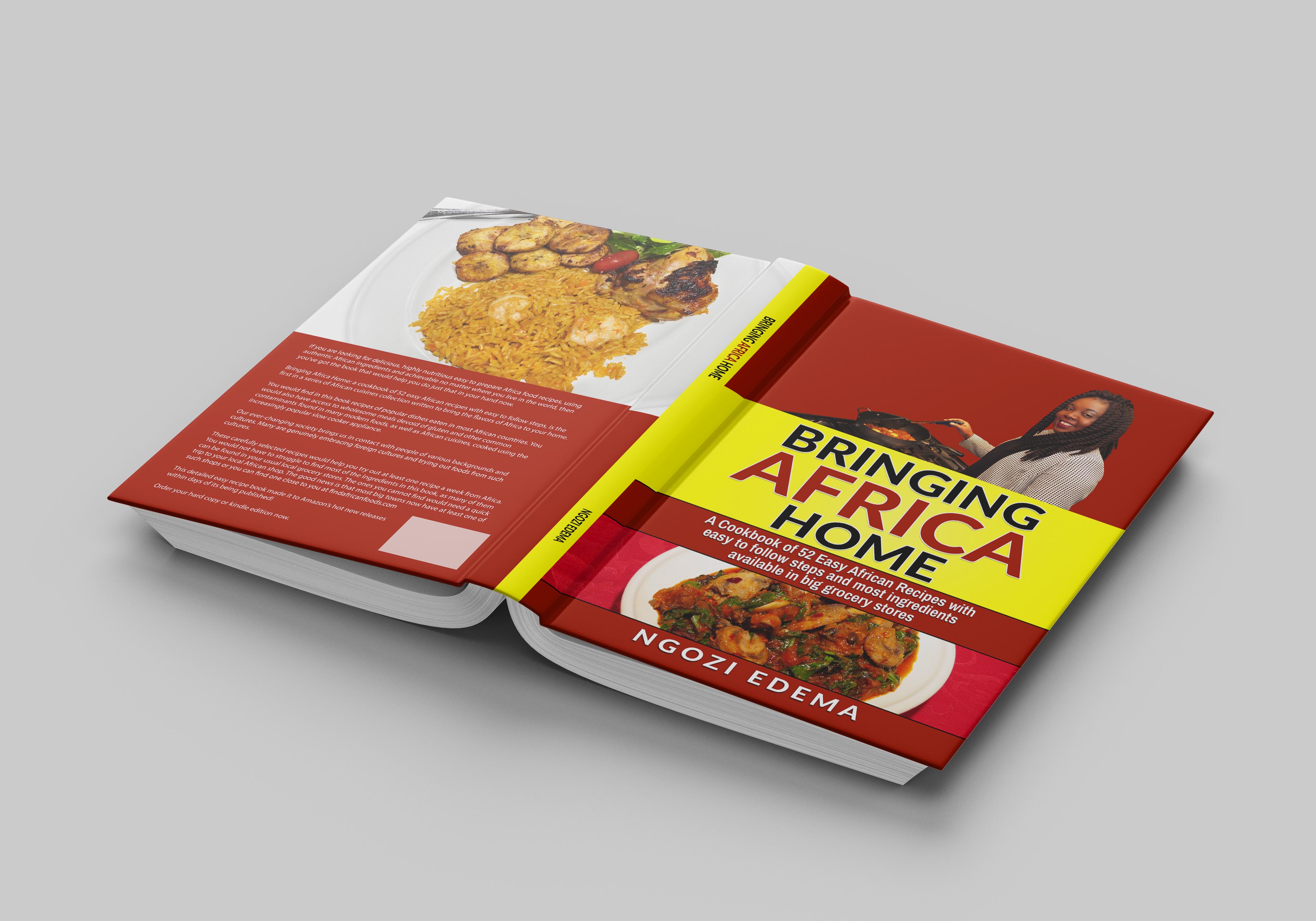 As noted in the book, I grew up in a culture where young girls learn to cook from their mums or other older women in the family. Cookbooks were unknown, and many looked down on those who use them. 
Cooking was often passed down from one generation to the next.
However, in our ever-changing world, it is no longer the case for children to be taught to cook in many homes. And it is not necessarily the women that are responsible for cooking either. Anyone can cook. And it can be learned at any age when one feels comfortable and ready for it. Thanks to the internet and cookbooks, it is now possible for any who wants to cook to learn.
Additionally, many are not familiar with food from Africa. The book was written to create awareness on the various stews, sauces, and soups available in a continent of over one billion inhabitants of varied and exciting culture. There was not a lot available, and I got various email requests asking questions on African food. So, I decided to start writing a collection of recipes and compile them into a book.
Bringing Africa Home was published in January, 2017, it is an ebook available in the Kindle Store. We are currently working with the paperback format. So, check this space often for updates. In the meantime, you can read the ebook or check out recipes from africanfoods.co.uk
What You Get From Bringing Africa Home
The book has simple meals your family can enjoy together. It is divided into four sections.
Children's meals
Meat and fish base meals
Vegetarian
And crockpot meals
Most of the meals are gluten-free. Expect ingredients like yam, plantain Nigerian brown beans, rice, chickpeas, lentils, and many more. Many of these are available in most grocery shops. And for any not found in your grocery shop, try an ethnic shop close. They are mostly spicy but full of flavor. You would love them. Grab a copy now from Amazon here. 
If you do read Bringing Africa Home, please do leave a review on Amazon or fill out the box below to let others know about it. 
Remember to share and follow me on social media.
Write A Review Of Bringing Africa Home?
Have You Read Bringing Africa Home Cookbook? Share Your Experience!
You will find the best stuff on the blog! Check out the following:
Like this post? Share it!
---
Fresh-squeezed how-to tips on book writing and busy mom life delivered to your inbox weekly.
My mama taught me never to brag. But permit me just this once to brag. Our emails kind of rock. This is where all the magic happens. Sign up for regular pep talks, inspiration, and all kinds of substance-packed goodness. Let's connect before you say goodbye.