The Jackdaw Who Thought He Was An Eagle
Our story this week is about a jackdaw who tried to be an eagle. The eagle is one of the largest birds known to man. They hunt animals like deer, sheep, lamb for food. The Jackdaw, on the other hand, is one of the tiniest birds in the world. These two birds are our main characters in this story that is an Aesop's fable adapted for storytelling with Ngozi.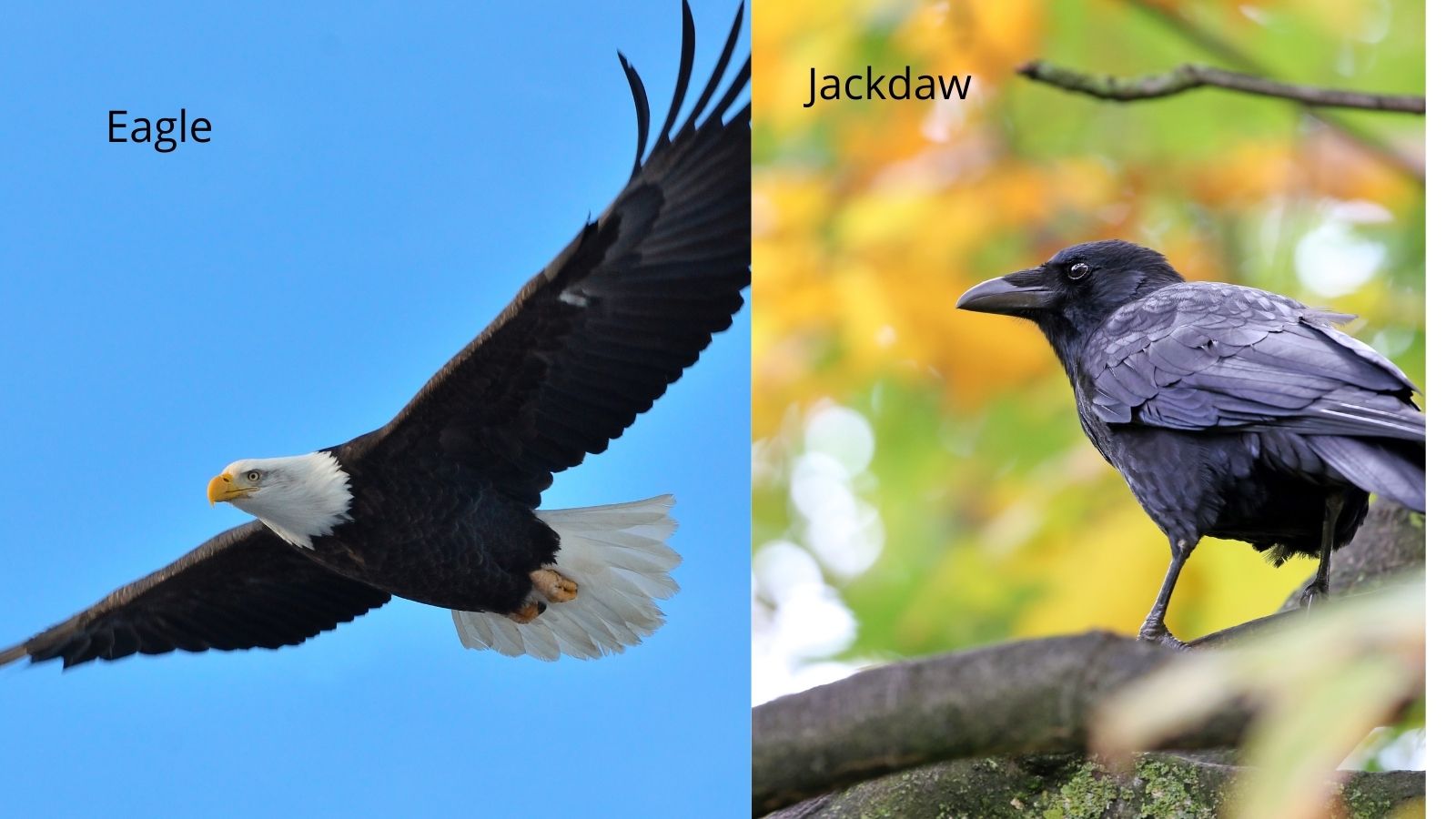 It is a beautiful story to help little ones know they should be themselves and not someone else. I will let you listen to the story and, we talk about it, below.
The Story Of The Jackdaw Who Tried To Be An Eagle
Lessons From The Jackdaw Story
We encourage young ones to try to be better versions of themselves. However, if they try to do something that will potentially harm them, then, it is great to let them know they should not. 
We encourage them to copy beautiful qualities like hard work, resilience, kindness, empathy, generosity and loads more. However, we discourage the bad ones. We do not want our little one to get in trouble like the Jackdaw, in today's story.
Children are lovely copycats and, it can be a positive thing. One of the best ways they learn is by observing what others do, especially a parent. That is why we need to be cautious of what we do as our little angels are watching. 
They also copy other people like their peers. You may notice a change of behaviour when they start school or daycare and have to be with children. They come home and, they now act differently. They may admire a classmate who is mean to others. Their young minds cannot see it is wrong unless we help them do that.
We cannot stop them from copying but we need to keep an eye and help them get rid of the bad, harmful behaviour as soon as we start noticing. We also need to behave well in front of the children as you are your child's greatest role model. They will want to be like you.
Activities From The Jackdaw Story
Let your little one draw a picture of their favourite bird and write three fun facts about it. And if they wish to share with others, then send to us using the box below. If love this please we want to see you here again. Sign up for my newsletter to receive a copy of my book, Mel The Monkey And The Alligator.
You may also like my other books, click here to get yours.
Have A Great Picture About This Story?
Do you have a picture to share?
You will find the best stuff on the blog! Check out the following:
Like this post? Share it!
---
Fresh-squeezed how-to tips on book writing and busy mom life delivered to your inbox weekly.
My mama taught me never to brag. But permit me just this once to brag. Our emails kind of rock. This is where all the magic happens. Sign up for regular pep talks, inspiration, and all kinds of substance-packed goodness. Let's connect before you say goodbye.